5 Ways A Workout Buddy Serves Your Fitness Goals
If you find that you're lacking the right motivation to exercise regularly, you may see some benefits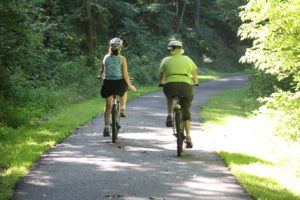 from getting a workout buddy. It's a well established fact that fitness is an important part of a healthy lifestyle. We hear this all the time from the experts. Regular exercise makes us feel and perform better in our everyday lives.
However, finding the proper motivation for working out regularly can be extremely hard. If you're struggling with this particular issue, then you might want to consider finding someone to be by your side during every training session.  It's time to find a workout buddy!
Why You Should Have A Workout Buddy
Having someone next to your while working out will most likely make it a friendly competition. This helps you stay focused on each exercise and will make it easier for your to tap into every bit of energy you have. Ideally, the workout body will also motivate you whenever you're not in the mood for exercising.
However, before you start convincing the first person that comes into your mind to become your workout partner, you'll need to consider a few things. Firstly, you'll need someone who can keep up with you (or who you can keep up with).
You'll also have to know that your workout buddy will be reliable. You don't wan't to miss a workout just because he or she doesn't feel like it. However, once you find the right workout partner, it will be much easier to reach your fitness goals.
Here are the five most notable ways a workout buddy will impact your fitness goals.
1. You'll Push Yourself To The Limits
A study conducted by the Kansas State University in 2012 found that people who were working out with someone exercised for up to 200% longer and harder than people who worked out by themselves. This is mostly because we are all naturally competitive, so it's always interesting to see who handles a certain exercise better.
If your workout buddy is fitter than you, then you will push yourself even harder, as your goal will constantly be to surpass them in physical strength and endurance.
Free Report: 15-Minute Fitness Workouts

2. Workouts Will Start Being Really Fun
Hitting the gym or going for a jog are not the only ways you can exercise with your workout buddy. One-on-one sports are great as well. Playing tennis, squash, or basketball are all great ways to workout without it feeling like you're doing an exercise session.But, even if you enjoy you running and weightlifting on a regular basis , you will still have someone you can talk to all the time. This will surely make exercising more fun.
3. You'll Start Trying Out Different Workout Routines
Don't expect your workout buddy to have the same interests as you when it comes to workout routines. When you're both doing your research, you will stumble upon different exercises, and that is definitely a good thing.
Doing one same old workout routine all the time will make you lose motivation. That's why it's good to spice up your training sessions every once in a while.
4. You'll Stop Quitting
We've all been there; exercise like crazy for a month and then taking a year-long break. But knowing that someone you enjoy spending time with will be working out with you will make you look forward to every training session. Because of this, you will be more motivated to stick with exercising.
5. You'll Be Able To Afford A Personal Trainer
If you've never exercised before and don't know how to start, then you may need a personal trainer for some time. But, here's the thing – they're really expensive. Nevertheless, if you have someone who is willing to start working out with you, then you can split the cost and afford a personal trainer.
What If You Can't Find A Workout Buddy?
A study from the University of Pittsburgh showed that those who work out with a partner lose a third more weight than those who go it alone. But what if you can't find a workout buddy that's right for you? Don't worry, the solution is the Home Workout Revolution System. With these follow along  videos you'll burn more fat in less time with these proven workouts. And these are even better than just having a workout partner, because you'll be training with Certified Trainers. They'll give you the inspiration you need to get through every workout while doing every exercise with proper form with expert instruction.