Eat Less Sugar And Salt For A Healthy Diet
If you're struggling to lose weight, or are always feeling tired, bloated and not quite right, then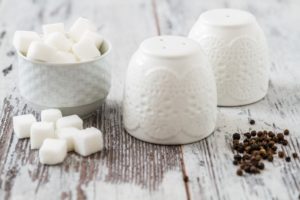 you need to eat less sugar and salt. Pay more attention to these small white grains that you are adding to your foods. They could be playing havoc with your health!
Who doesn't enjoy a sweet treat now and again? We all do and there is nothing wrong with that. The problem is that we have become accustomed to having something sweet with almost every meal. This can lead to numerous health related issues that you may not be aware of.
One big issue with consuming too much salt is that it leads to water retention. This causes weight gain, breathing issues and can worsen inflammation that you already have.
Let's take a look at how you can eat less sugar and salt in your diet.