5 Steps Towards A Lifestyle For Weight Loss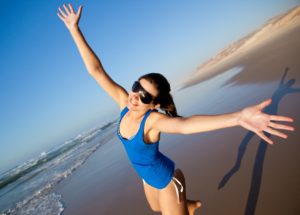 Whenever a special occasion or a holiday draws near, many people wish that they had adopted the right lifestyle for weight loss. Instead, they look for quick weight loss products or programs. While looking good in swimwear during summer isn't a bad idea, looking for a short cut to weight loss can backfire.
Truth is, weight loss is a lifestyle and not a fad. It's a result of a consistent effort that involves exercise, proper food intake, and the right amount of rest. These 5 steps below reveal how a lifestyle for weight loss will help shed those unwanted pounds permanently.
5 Steps To Living A Lifestyle For Weight Loss
1. Change Your Perception About Weight Loss
A lifestyle for weight loss isn't just a matter of watching your weight on the scale. Weight loss should be about changing your body composition by having less body fat and acquiring more muscle. For women, this means losing side handles and toning your body. For men, it mainly means decreasing your waist line. Lately, health experts are associating heart disease risks with a large waistline. Hence, losing belly fat isn't just for aesthetic reasons but mainly for longevity. Weight loss is a goal to achieve good health. Looking good should only be a consequence.
2. Regular Exercise 
You have to exercise on a regular basis. Start with brisk walking if you're overweight to prevent knee injuries. Perform this activity consistently by spending at least twenty minutes a day. Or, you can try a high intensity interval training (HIIT) to jumpstart your metabolism. Samples of which are burpees, bodysquats , push ups, and mountain climbers. This is way shorter to perform but requires cardiovascular health and lower body weight. It shocks the body to drastically increase metabolism that results to weight loss. However, this is not advisable for people who are just beginning to exercise.
Why Is Belly Fat So Difficult To Lose? (Free Report)

3. Eat Proper Food
Educate yourself on proper food intake. People who need to lose weight should consume less than their total energy expenditure. Plus, macronutrients like protein take center-stage along with complex carbohydrates. Reducing consumption of sugary food products does a lot of good to your body. Hyperlidimia, a condition where the body has high levels of cholesterol, is often triggered by obesity and diabetes.
Avoid eating fastfood. Prepare meals and bring them to work. Choose lean ground meat and season them with spices. Then, make sure you have a side dish of vegetables to add more fiber in your diet.
4. Manage Your Stress
Minimize stress in your life by managing stress. Again, you can resort to exercise to shake off stress from work. Listen to relaxing music. Enjoy time with your family or pursue a hobby you love. Stress produces hormones like cortisol that sabotage our attempts at weight loss. Also, get enough sleep so your mind and body can function optimally.
5. Be Kind To Yourself 
The only way to lose weight and keep it off forever is to change your habits and learn to make healthy choices, both in the way you eat and how you exercise. While you'll need to make changes to your diet, you can still enjoy your favourite foods in moderation and lose weight. If you reward yourself occasionally with a treat you will find it easier to stick with your new lifestyle of improved nutrition and fitness which helped you to lose weight in the first place.
Kickstart Your Lifestyle For Weight Loss
Weight loss is a lifestyle and not a fad. It means prioritizing exercise over a sedentary lifestyle. It means choosing the right food to fuel your body. Most of all, it means a healthy perspective of what life is all about. Remember that Rome wasn't built in a day. Be patient, but at the same time, don't fixate too far in the future. Otherwise, you'll just lose motivation and give up.
Three weeks is optimal here as that is the amount of time it takes to build good habits – habits that stick. Also, three weeks is a long enough period of time that you can see good results, but not so long that it's hard to stay motivated. Anyone should be able to do three weeks if they put their mind to it. Check out this 3 Week Diet Plan which teaches you how to build proper habits over the course of three weeks that will help you lose those unwanted pounds and stick with weight loss into the future.